When I ask you this question:
When it comes to designing a business that funds the lifestyle you want, where do you feel you need the most help?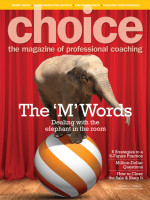 …the answer you choose the most is this:
I need more money. I'm working way too hard for too little return.
You too?
I'm delighted to share my article that was published in choice, the magazine of professional coaching 
And I'd love to hear what you think – please comment below… 🙂