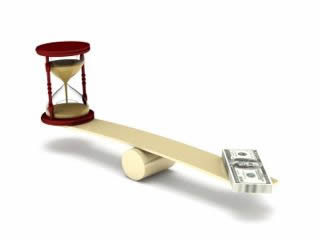 People ask me all the time how I've managed to create a 6-figure+ business while only working about 15 hours a week. First, I had to build a solid foundation and set up systems that would support the business as it grew, systems that were either automated or delegated or easily repeatable.
Once I had the foundation and the beginning systems in place, I was constantly looking for ways to leverage my time and talent, and I still do. I could write a book on the many ways we do this in my business (and maybe I will someday) but in this 4-part series, I'm going to share with you some of the most effective ones that you can apply to your business today.
1. Pick a price…
Pricing is one of the places that almost everyone gets stuck. Don't stay stuck especially if it's something new that you're offering and you're filling in the holes in your business model. Just pick a price and get your offer out there.
Getting stuff out there will move you forward, create more income, and leverage your time.
You can say, "This is early bird pricing. This is beta pricing. This is an introductory rate. Be one of our beta testers." Know that you're not wedded to that price forever and ever.
That is the beautiful thing about what we do. We can change our pricing all the time. It's simple. You can just type a new number.
2. Always be hiring…

As your business grows you always want to hire. Pay attention to who shows up, who comes across your desk, who is in your inbox and who you meet at conferences and events who may be a good addition to your team.
You might think, "I'd love to have her do my social media. I'd love to have her be part of my administrative team. I'd really love to have this person do my website."
Be aware of the people that you're feeling that resonance with. Maybe there is a small project you can hook them with to get them onto your team early.
That way when you're ready to hire someone, you have a ready file of possibilities to go to.
3. Make mine WordPress…
If you haven't made the switch from a traditional HTML to WordPress, now's the time.
The benefits of using WordPress are seemingly endless. Search engines love them, you don't need to know HTML to create a site or make changes to an existing site, and there are tons of free and low-cost templates to choose from that will give you business a professional polish.
Because it's so easy to use WordPress, this is going to save you (or your designer) tons of time, which is going to save you tons of money.
4. Take a stand and make it matter
To increase your exposure and your reach into your market, decide what it is that you are willing to take a stand for and make that matter to your market. If you're ready to stop seeming like everyone else in your market who does what you do, then figure out what it is that you believe at core level and are willing to make a stand for and in for your market.
Then use that stand as the basis for your manifesto, weave it into your marketing copy, speak about it with passion, and watch as more of your ideal audience gathers to you.
5. Publish your content on Kindle

If you have an ebook or a print book, consider publish those on Amazon as Kindle versions. It's a great way to get your content in front of all that traffic that already exists on Amazon that can lead to more leads and more sales for you. Just be sure to put an invitation in your book that leads people back to your website.
I'd love to know which one of these leveraging tips resonates the most with you – share with me below!