Hi, I'm Alicia Forest, and an entrepreneur just like you.
I'm here to support you in creating and a growing a business that you can rely on for life, with simple systems and easy to implement strategies.
For nearly 10 years, I've helped thousands of struggling online business owners around the world just like you breakthrough their blocks to turn their businesses into 6-figure mini-empires.
I'm here to provide you practical hands-on support so that you can create a real business that you can count on, because my passion is mentoring entrepreneurs like you to creating the successful business that gives you the time and money freedom that you crave and that you absolutely deserve to have.
Start today to create the business you envision for yourself if only someone would show you how. I'd be honored to be that person for you. So I invite you to get to know me now.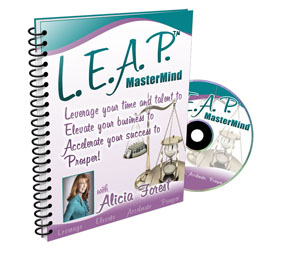 Just enter your information in the boxes on this page, and I'll send you a special free gift to get you started along with a free subscription to my content-rich "L.E.A.P. with Alicia Forest" ezine where I share the simple, practical, and proven marketing tactics, tips and tools to help you create the successful and sustainable business you desire and deserve. ($197 value).