In celebration of our Independence Day here in the US this week, I'm offering you this special opportunity to create (or strengthen) the critical foundation of your online business so you can create the same kind of FREEDOM I have in my business…
For TODAY only, you can get your own copy of my bestselling 21 Easy & Essential Steps to Online Success System™ for 50% off.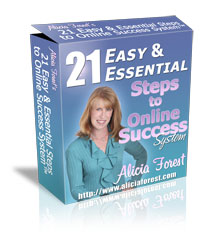 This special offer is good for TODAY, July 6, ONLY, so don't wait, ok?
Take action right now here:
http://www.clientabundance.com/21steps.htm
This System is TRULY the secret to my success – as it has been for thousands of others as well. I'm confident it will be for you too.
http://www.clientabundance.com/21steps.htm
Cheers,
~ A
Alicia M Forest, MBA
The Business Shifter™
PS: here's what just one recent 21 Steps owner shared:
"The 21 Steps Live! Program has taken me leaps forward in my business plan and mindset.
Immediately starting the program I finally hit on the niche that completely resonated with me. My marketing message became clear and I had a plan of how to reach my niche and how to figure out exactly what they wanted.
Before I joined the program I was working with blinders on. I thought that I had all of the components needed for a business to run well… a niche, a website, business cards and pamphlets, and a passion for coaching. I never understood why my website wasn't working for me, why I hesitated to hand out my business cards, and why even though I was so passionate about helping others did I always feel like something was missing. This program helped me to understand why to all of those things, and it also had me making the shifts and changes necessary to take my blinders off and move forward in a powerful way.
This program took into consideration every step you need to build an authentic online business. My message follows through now with everything I do and create, my website will no longer be an online brochure, my list-building strategies are authentic and provide all potential clients with great value, and my products and services have expanded.
I also have a better understanding on marketing, and I know now that so much of it is about building relationships and trust in a way that benefits both my clients and me.
In just 8 weeks I have defined my niche, created a new free taste as well as my first for fee product and 2 bonuses, and I am in the midst of working with a web designer who is helping to recreate and optimize my website while staying true to a brand that fits me and identifies with my niche. This has opened me and my business up to so many opportunities.
I have even more energy and passion for what I do, my creative juices are flowing, and I have a solid plan that helps me to stay on track and keeps me going one step at a time.
I would recommend this program to anyone who needs a boost in their business whether you are just starting out or are an established entrepreneur.
Alicia and her program give you everything you need to move forward in a big way that feels right for you."
Lisa Sand
Wellness Coach
Wellness Fulfillment
www.wellnessfulfillment.com