Is your main free content opt-in in need of a refresh or replacement?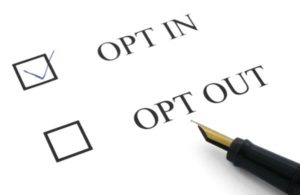 Yup, mine too!
So while I've been working on mine, I thought I'd share the process to help you too. 🙂
Here are 5 simple steps to creating a fresh and compelling opt-in.
Step 1. Choose it
Before you create a new free content opt-in, be sure it's something your audience wants. If you don't know what that is, just ask them.
– Ask them
Ask your prospects a simple, open-ended question, like "What's your biggest challenge with building your business online?" or "What's the one thing you'd like to learn more about that relates to balancing your work and family life?"
Tailor the question to your area of expertise and use the answers you get to help spark ideas for your new freebie.
– Do a simple survey that asks 1-10 questions using a survey tool like Survey Monkey.
This allows you to ask more specific questions to elicit more specific responses – very cool!
Tip: To entice people to share their thoughts with you, offer them a free gift for answering your question or taking your survey. It's also a nice way to say thank you for their time.
Put this question to your market:
– periodically in your email communications
– ask them on social media
– as an autoresponder when they sign up for your freebie
Remember, your market will tell you what it wants, if you'll just ask them. 😉
Step 2: Write it
Once you know the topic of your freebie based on your research, it's time to write it.
(Even if you're filming a video, you'll still need some form of written content to to help your viewers consumer your content – plus it doubles as your script).
I find the easiest way to create new content is to write an outline first, and then fill it in.
How about a simple outline to follow?
– Title (make this benefit-oriented)
– Intro paragraph (3-5 sentences; describe the problem and why your reader needs to solve it)
– 3-10 info bullets (your solution to the problem broken down)
– Closing paragraph (3-5 sentence summary)
– Call-to-Action (what should they do next? Tell them here)
Remember to keep it short so your reader actually consumes your content.
Step 3. Design it
Once you're done writing your content, decide how to package it for your subscriber.
Here's some of the most simple and highest-converting options:
Checklist
Cheat Sheet
Short Guide
One-Page Blueprint
MP3
Infographic
If design is not your forte, use Canva, Designsta, or Fiverr.
Step 4. Deliver it
Once your freebie is ready to be released, create a thank you page on your website and then upload your freebie to that page on your website, like this –> http://aliciaforest.com/thank-you/
If you're creating a stand-alone opt-in page, I highly recommend (and use for all my opt-ins) Leadpages.
Step 5. Promote it
Yay! You've done the hard work, so now it's just a matter of letting your market know your fresh and compelling opt-in is available.
The first thing I like to do is send it to my existing list (it's a surprise bonus to them for already being on my list) and share it in my paid program groups. I'll ask them to share the opt-in page with their circles as well.
Then we set up an automated system for sending the URL to the opt-in page on a consistent basis so we can consistently build my list.
That might look something like this:
– 1 Tweet per day
– 1 Facebook Page post per week
– 1 Free Facebook Group post per week (my group)
– 1 LinkedIn post per week
– 1 Google+ post per week
– 1 Instagram post per week
– Facebook Groups I belong to made up of my market posts as allowed
There you have it… 5 simple steps to creating a fresh compelling opt-in!
When yours is ready, I'd love to see it. Feel free to share it in the comments below… 🙂
If this was helpful, I'd love it if you'd share it using the buttons below – thanks so much!