I work with women entrepreneurs who want a life they love that's supported by a business they love— without giving up a single thing to have it.
How can I help you?
Practical Business Strategy + Lifestyle Design
I'm delighted you're here to learn how we can work together to design (or re-design) your business into one that honors what's most important to you, with the practical business strategies that creates ease, flow and profits, in less than part-time hours.
I've designed three specific learning tracks for you, to meet you where you are today and that will take you to the next level much more quickly than you could on your own, without working more or harder (that's just not how I roll).
I suggest starting with my free mini-course, <coming soon>, which will give you a clear sense of where you are now, give you permission to create what you REALLY want, and how to make that happen sooner than later.
And if you're ready to just dive right in?
Then enjoy finding your place in one of the programs below and jump in – the water's fine!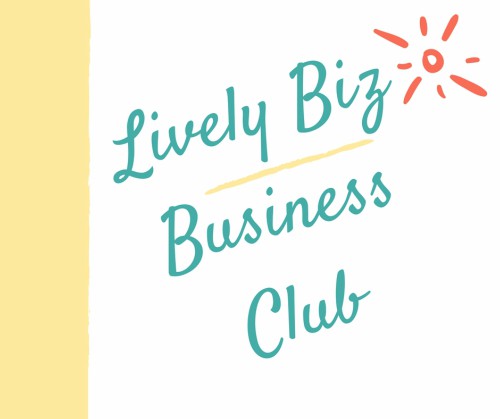 Emerging Entrepreneur? The Lively Biz Business Club is for you.
The LBBC is for emerging entrepreneurs, those who are just starting out online or adding the online component to an already existing offline business. LBBC includes a proven step-by-step curriculum and monthly marketing focus.
Coming soon – Join the early notification list here
Expanding Entrepreneur? The Lively Biz Boosters is for you.
This is an online group training and coaching program with monthly Q&As with Alicia, a private Facebook group, and immediate access to 45+ hours of training modules. Boosters is the perfect next step for graduates of LBBC, or is a great option for entrepreneurs who want to grow their business with leverage with just-in-time coaching support at a very affordable investment.
Enrollment is closed.

Email coaching@aliciaforest.com to get on the wait list for when enrollment re-opens.

Evolving Entrepreneurs – Private Diamond Mentorship
Program is currently full.
This program is right for the entrepreneur who wants to work directly and intensively with Alicia privately. Included in this high-level program are a private retreat, private coaching calls, and direct email coaching. This program is customized to take your business from where you are to where you most want to be, with a lot less stress and strife in getting there.
Program is full for 2017-2018. Email support@aliciaforest.com to be placed on the waiting list for potential open spots in Fall 2018.
Enlightened Entrepreneur
This is Alicia's most exclusive and elite private mentorship program and is by invitation only.
Business Breakthrough Virtual Retreats

Click here for more information about Alicia's BBVRs

Some things you may want to know…
I limit my coaching calls to 1-2 days a month. If you tend to need instant responses or thrive on stress or drama, I'm not your gal. 😉
If you're in financial crisis, I'm not your gal.
If you tend to over-think or wait until things are perfect before moving forward, I'm not your gal.
If you don't have a business yet, check out my Lively Biz Business Club – it's just for you.
If you're struggling with your niche, check out my Lively Biz Business Club. I don't really help folks 1:1 with figuring out their niche because you really don't need me to do it. 😉
I don't do your marketing for you. I will teach you everything I know or point you to where you can find any answers I can't provide for you, but the onus is on you (and/or your team) to do the work.
I don't Skype/Zoom for private coaching. I like to work over the phone vs. on video. I think better when I can move, so I prefer not to be tethered to the laptop.
I'm pretty tech-savvy, but our time is better spent focused more on strategy and and less on the back-end details of making it all work. I can point you to the right support when you're ready to hire help.
Save
Save
Save
Save

My mission is to reach the entrepreneurial masses with my message and to give them the practical tools to support them in creating a life they love that's supported by a business they love— priority-based, profitable, part-time.
Run your business – don't let your business run you.
You're an Entrepreneur, and probably a parent, a caretaker, or have a passion outside of your business you want to support, with a deep desire to live a life that honors what's most important to you. You're ready to let go of the old paradigms of pushing and striving to create the successful and sustainable business you want, and you're ready to create your legacy based on your terms in your time.
However, despite your ever-louder inner nagging to move in this direction, you're plagued by messages that you're not doing enough, you don't know enough, or worse, that you're not good enough, and your sense of overwhelm and defeat is growing stronger day-by-day. You're frustrated because you have a clear vision of what you want but you're just not getting there.
It's not a lack of desire, You're just tired of feeling like you're missing a critical piece of the puzzle. And you're afraid if you don't find that piece, you'll have to close up shop and the naysayers will tell you they told you so. And a part of you will wither and die.
Whether you fear your doubt is deeper than your desire, or you're scared if you don't figure out how to make your business run with a lot more ease and flow, or you're already enjoying the level of success you desire, but you know there's an easier way that will give you back your life (and honor the reason you went into business for yourself in the first place) – I can help you.
If you're ready to know how to be, do, and have in your business without the pushing and striving sense of 'do whatever it takes' then I'm here to show you.
I'll help you:
Figure out exactly what's most important to you (it's never the surface-level stuff so be ready to go deep)
Release your hold on shoulds, comparisons, time, other people's agendas, overwhelm and yes, even money
Learn how to design your day so you can amplify your efforts with a lot less time invested
Shift your way of being in your business so there's far more having with far less effort
Expand your business on your terms on your timeline
You'll come into alignment with what you really want. You'll give up the need to have what someone else has created and instead create your most unique and precious life. You'll embrace a deeper connection to your own power that will fortify your success, now and into the future. You'll move through the inner resistance so your outward desires are reflective of that dream you hold so close.